!NOTE: Tags can be in upper or lower case>
Kapitšntrousermaus saugt die Pferd poots.
Zee text above is a HEADING Size 1, or "H1" tag, and is left aligned by default. An edifying display of zee full range of headings follows:
Heading 1 is 24 Point type. Headings can be centered like this one is by using "CENTER" tags.
<!NOTE: Zee CENTER tags center all text between them above.> <!A bracketed EXCLAMATION mark tells zee komputer that all text within its brackets is a comment that is not to appear on zee screen when zee page is displayed by a browser such as Internet Explorer, Netscape or Opera.>THIS line of text is NOT a heading. It zimply illustrates zee point that, since it is outside of my comment brackets, it will be seen when a browser displays this page. NOW, WE RESUME OUR USE OF BOLD FACE AND OUR DISCUSSION OF HEADINGS. Whereas zee largest heading is a full 24 point size, there ARE smaller ones:
Heading 2 - 18 Point

Heading 3 - 14 Point

Heading 4 - 12 Point

Heading 5 - 10 Point

Heading 6 - 7 Point
<!DIR is really a DIRECTION tag for specifying zee direction of text flow in your document(s). DIR assumes a left-to-right text flow unless right-to-left is chosen in an accompanying argument. DIR, used without arguments, also has zee effect of a tab space for each occurrence of zee tag.> Normal body text is 12 Point by default. Zee "B" tag converts text to Bold Face and 12 pt. bold is my text preference for this web site, so I won't use its companion "/B" tag until I decide to quit BOLDING text.

NOTE: I have set this word grouping off in a separate paragraph by cleverly deploying zee "P" tag before it. Though it has a closing "/P" tag that can be used in terminating its action, it's obviously redundant and is, therefore, not employed here. Zee PARAGRAPH tag automatically inserts a carriage return AND A LINE SPACE before zee text that follows it. Nice, huh? (NOTE THAT HEADING tags DO THIS ALSO; but, they do it both before AND AFTER their enclosed text, as can be seen above.)

pLeAsE nOtE!<!Zee "I" tags make all text between them italicized.> This site is continually awash in creativity, thus CONSTANTLY UNDER CONSTRUCTION. I apologize for any inconvenience this may cause. It's a curse I bear.

I note, here, a peculiar point of interest... I have been given to understand that 'browsers ignore any spaces or new lines around tags. Guess what? NOT! IE4 seems to recognize at least 1 such space, though not more. Well, back to zee use of BOLD body text. Carriage returns in coding do not evoke a corresponding carriage return on-screen. Zee browser's word wrap serves this purpose, but WE can override this and break text at any point where we insert a "BR" tag (for BREAK.) This tag, as with zee Paragraph tag, doesn't demand a closing tag. For example...
Email me at:HorseyRider@ohsomeplace.deZee ADDRESS tags I also included can be a nice time saver. They simultaneously force zee contents between them onto a new line, force them to be shown in italics, override zee use of "DIR" tags to indent zee contents, and force any trailing text onto yet another line. They can, however, be a bit limited and cumbersome in zee MIDDLE OF A PARAGRAPH, as can readily be observed in my example. <!You'll note that, in zee sections just preceding this comment, I abandoned any pretext of programming form and put zee HTML tags not only at zee left-hand border, but at zee end of lines or, sometimes, WITHIN lines. Sometimes, I got a bit more capricious and even GROUPED several of them. This is OK, but frowned upon by zee anal retentive. You might, also, eventually regret such sloppiness when, after writing a particularly involved page, you are amazed to discover that your disorderly coding is hard to follow. Also, note that a FEW LITTLE TYPING ERRORS OR OMISSIONS can really spoil zee broth.>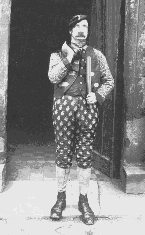 Here I include a note that, on occasion, zee Englisch spelling izn't so gut. Sadly, I was tutored by an unwashed emigrant during my formative years. This is his sad picture.